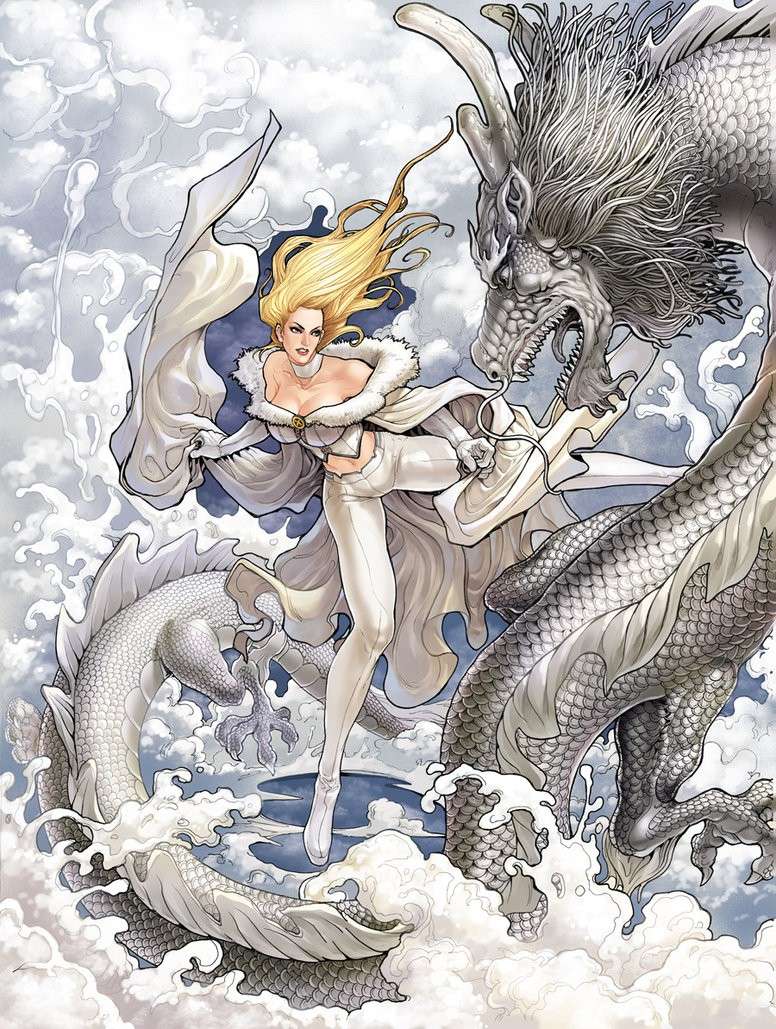 Emma Frozenstein
The White Queen
Aliases :
Grace, The Black Queen.   
Age :
Indeterminate.   
Origin :
Everneige.   
PHYSICAL CHARACTERISTICS
Physical age :
40 years.   
Sex :
Female.   
Height :
1,77 m.   
Weight :
65 kg.   
Build :
Emma is a beautiful woman with slender body and lightly muscular. She is feline and yet elegant, very feminine.   
Bust :
95 E.   
Skin :

Color : White.
Complexion : Lightly tanned.
Hair :

Shape : Most of the time, smoothed, but at natural her hair english hooks make light and vaporous.
Color : White blond.
Length : Her hair reaches her mid-back.
Style : She lets them free, but for some occasion she can tie them in a chignon or make new hairstyle fashion.
Eyes :

Shape : She has large almond-shaped eyes with long eyelashes sheathed in black.
Color : Ice Blue.
Scent :
She wears a delicate perfume of white flowers.   
Distinguishing marks :
Jewelery :


Sometimes, a diamond ring in her ring finger.

Personal effects :


She likes to be natural, but sometimes she uses a little blush and a light pink on her lips.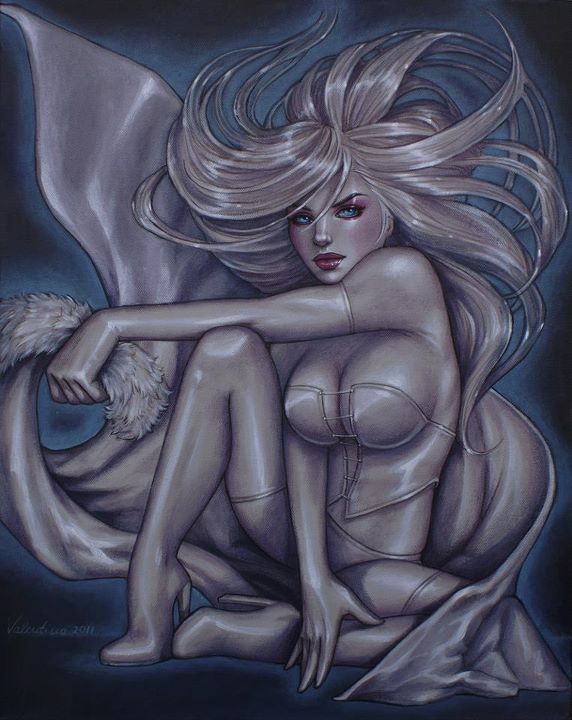 DEMEANOR
Alignment :
Lawful Evil/ Chaotic Neutral.   
Religion :
(optional) Inderterminate.   
Political affiliation :
(optional) Secret.   
Culture :
(optional) Her culture is quite large because her various travels. Knowledge is important to her.   
Occupation :
(optional) Emma has a personal fortune. Nevertheless, she will tell you
she likes to create models of fashion, which is a profession of
surface. But actually, in Mur, she is architect.   
Hobbies :
(optional) Chemistry,
biology, poisons, sewing, collecting art, learn from others, manipulate
minds, the art of disguise, singing, old books, dragons, technology,
magic, mutation, travel, hunting.   
Love interest(s) :
(optional) Too many interests. She likes dancing very much !   
Sexual orientation :
(optional) Heterosexual (She loves only mens).   
Dominant hand :
(optional) She is ambidextrous.   
Living arrangements :
(optional) Because her multiple personalities, she has several homes
and likes investing in real estate. What is known of her friends is that
she has a rent in Sinfar and another in Port Saban.   
Speech patterns :
When she speaks, we can note a light accent of Cormyr (French accent).   
Recurring mannerisms:
She has a natural elegance that is palpable when approached and
sometimes a softness in her way. Her eyes contrasts with this
appearance, as cold as ice. She looks at you often deeply when she
talks, she sounded as though your mind.   
Languages :

Native tongue : (optional) The Neve (Everneige language).
Second language : (optional) The Cormyrian (French accent).
Additional languages : (optional) Yes.




Gnome.

Draconic.

Secret Personal Language nammed The Orch.

Personality :
   Emma has a complex personality.
   Her telepathic mind is divided into several zones, harboring her various incarnations.
   At the surface, she shows a fragile appearance, shy, sometimes sweet, luring her world.
   But inside, she have cold and calculating mind, establishing her plans to achieve her objectives without any scruples.
   She is dominating and she loves to take the reins.
   But all is not as manichean and she keeps many mysteries and surprises in her.
She has a passion for disguise and pretense, in the shadows manipulating the pieces on a chessboard on several floors.   
FAMILY
   She have two sisters : Adrienne and Cordelia Frozenstein.
   Her husband : Talendir.
   Five childrens (Adults now) : Arkhel, Ivan, Vincenzo, Rowena and Khaali.
   A secret brother : Armand.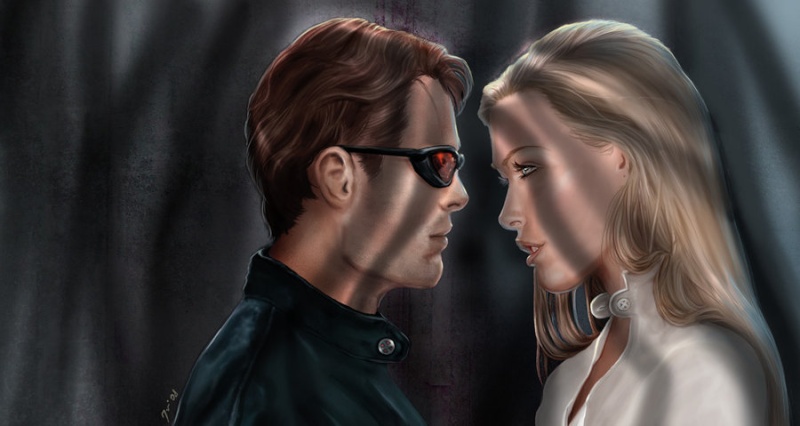 POSSESSIONS
   Businesswoman, she has several investment in Everneige.
   Her passion for fashion serves as a profession of surface on occasion.   
HISTORY
   Emma is a very high telepath specializing in mind control. Her
second mutation allows her skin to give the hardness of diamond. In this
form, she can no longer use his psi powers.
   Despite her vast powers she primarily depends on her charisma and intelligence to achieve her ends.
   She believes that everyone has a right to privacy, particularly with regard to his thoughts.
   Emma prefers to avoid combat, preparing her plans in the shadows.
   She can be hard but is very concerned about people under her responsibility.
   Her attitude is sometimes a problem because she does not hesitate to
use violence and killing when she thinks it's necessary.
   Emma comes from an old family to Everneige.
   During her childhood she had frequented the Hellfire Club at Lomidar and had an opportunity to meet many shady characters.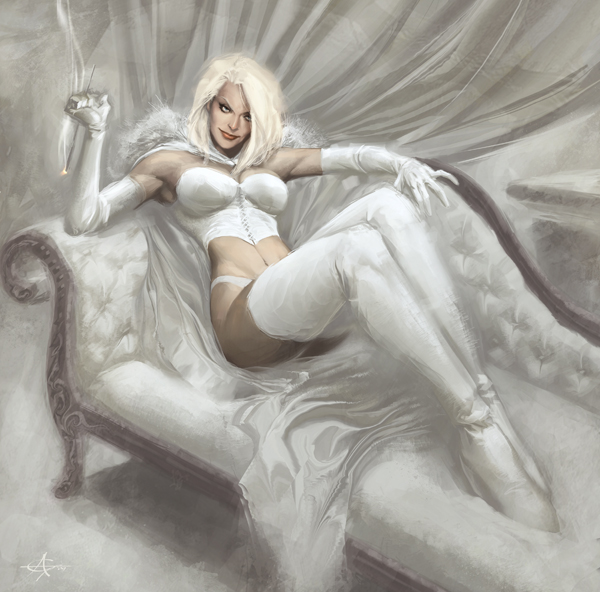 When she began hearing voices, her parents made ​​her internment in an asylum.
  She used her powers to kill carers brutal and maybe even her parents.
  She used her telepathy to transform the capital into a large family
fortune, and founded her own business which brought her a comfortable
fortune.
  She also opened a private school in the dark city to form a team to seconding.
  Her beauty and talents her opened the gates of the Hellfire Club and
its Board of Chosen which sought domination of the continent.
  Leto, the White King, and Kendral worked with the construction of the golems offensive called "Sentinels".
  He said he wanted to use the Club can build up an army of mutants.
  Emma, with her powers, learned that in fact he wanted to destroy them all.
  With Ash, who became the Black King, she took control and renamed the Inner Circle.
  The club became an elite group of mutants.
   In her school she formed a team of young mutants to use.
   She tried to recruit Maharet but was met for the first time to mutants rivals led by another powerful telepath: Cyxss.
   Emma saw her students as an asset to play if her position in the circle was threatened.
   But her students were massacred by Legion, during a terrible war that shook all Everneige.
   She was then comatose at the time, and was rescued by an old hermit who took care of her : Sir Oliver.
   The suite is a mystery that only her family and friends know.
OOC Traffic Lights :
RED LIGHTS:
Which is too dirty or much insane, submission, rape. Have sex all the time does not interest me and bores me highly.
YELLOW LIGHTS:
The act of sex with multiple cocks, bondage, domination of another person.
GREEN LIGHTS:
All kind of role play that requires thinking, strategy, with a group or
guild. Normal sex with a normal cock and tenderness. Being surprised by
a Role play and the player's imagination. Living a love story stable
but with some arguments to spice up the game. Then, various things are
possible as long as it remains while respecting between the player and
me.
---The code...
"Peace is a lie, there is only passion.
Through passion, I gain strength.
Through strength, I gain power.
Through power, I gain victory.
T]hrough victory, my chains are broken.
The Force shall free me."